Silver Bullet Productions
Accolades
Silver Bullet Productions
Accolades
SBP has completed over 35 educational film projects, including documentaries, Public Service Announcements, and screenwriting and acting workshops in pueblo and rural communities. Our student workshops support suicide prevention, dropout reduction and anti bullying. We teach workshops to have educational and cultural impact on each child and community.  The Post Test Assessments indicate improvement in skills and aspirations for each student.
SBP Documentaries have won four regional Emmys®, and the prestigious Accolade award for Excellence, and have been accepted to film festivals internationally. Our workshops were awarded the highly sought San Manuel Band of Mission Indians' Yawa' award for Putting Actions to Words.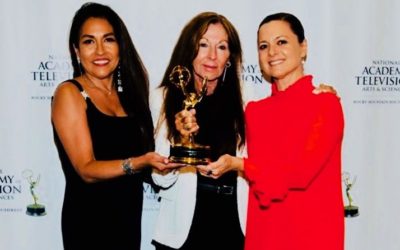 The Rocky Mountain Southwest Chapter of the National Academy of Television Arts & Sciences Board of Governors' Award was presented to Silver Bullet Productions at the 2019 Rocky Mountain Emmy Awards on Saturday, September 14, in Scottsdale, Arizona.
Pam Pierce, CEO and Producer, visited her Alma Mater, Roanoke College in Virginia, to screen SBP's films Canes of Power and A Thousand Voices. Pam was the Keynote Speaker for the Women's Forum at Roanoke. In addition to working with students, Pam was honored to meet with Asst. Chief Brad Brown and Kathleen Brown of the recent Federally recognized Pamunkey Tribe of Virginia.
The best part of the week was time with college friends, and talented students and faculty.
The Indian Pueblo Cultural Center honored Women's History Month with a weekend of events exploring how Pueblo and Native American women are creators and keepers of tradition. "A Thousand Voices" was screened at the festival on Saturday, March 12, 2016. Producer Pam Pierce and Jicarilla Historian and Author, Veronica Tiller were there at the screening to answer questions.
Silver Bullet Productions was so honored to have our documentary, "A Thousand Voices," be part of the 2016 Durango Film Festival as part of the Native Cinema Program. It screened on Thursday, March 3 and Saturday, March March 5. We thank Durango Independent Film Festival for accepting "A Thousand Voices."
We were honored to have our film "A Thousand Voices" included in the Gallup 3rd Annual Native Film Series on August 7, 2015.
PBS/KNME broadcast "Canes of Power" in their three state viewer area (New Mexico, Arizona and Colorado), on November 8, 2012.
In celebration of Native American Heritage Month, the Museum of Indian Arts and Culture (MIAC) presented a screening of Silver Bullet Productions' "Canes of Power" including a panel discussion on November 4 and 7, 2012.
On September 8 "Canes of Power" was screened by the Smithsonian Institution's National Museum of the American Indian in Washington, DC. Seven of New Mexico's Pueblo Governors and as well as other tribal leaders joined SBP's production team, Wes and Maura Studi, Senator Tom Udall and Jill Cooper Udall, as well as Washington members of agencies, foundations, educators and filmmakers, for a celebration of the message from Silver Bullet's new film "Canes of Power." A reception on the 4th floor of the beautiful National Museum of the American Indian (NMAI) was sponsored by Global Center for Cultural Entrepreneurship, The Dan and Ashlyn Perry Charitable Foundation, and Silver Bullet Productions.
The screening of the film at the Museum theatre met with enthusiastic support. A panel discussion focused on the need for more education projects like the Canes and the important issues of sovereignty.
We thank the generosity of our co-sponsors, and the gracious support of the Smithsonian NMAI. We acknowledge the special guests of the evening Governor Shije (Pueblo of Zia), Governor Rivera (Pueblo of Pojoaque), Governor Vicente (Pueblo of Acoma), Governor Quintana (Pueblo de Cochiti), Governor Lovato (Ohkay Owingeh), Governor Perez (Pueblo of Nambe), Governor Quintana (Pueblo of Santo Domingo), Lt. Governor Pecos (Cochiti), Lt. Governor Aquino, and tribal leader Peter Pino (Zia).
Southwest Association for Indian Arts (SWAIA) held a screening of "Canes of Power" during Indian Market on August 15, 2012 at the New Mexico History Museum.